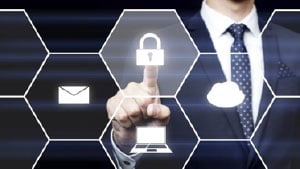 Review the quick reference guide and video to help you decide which service is the best fit for your business.

Information Rights Management (IRM) – Secure communication inside your company
IRM helps you secure your information by encrypting it and apply policies so only specific individuals can act on it.
For example:
Allow recipients (internal and external) to edit and print but restrict them from forwarding to others.
Or mark the document as "company confidential" so external users can't view it.
Office 365 Message Encryption - Send encrypted emails to anyone (internal or external)
Even external users who are using google, yahoo, or other unknown email clients.
The recipient only needs:
An @outlook.com account
Or a unique on-time pass-code (i.e. 951231) to access the message
The recipient can view and respond to the message from the browser on their desktop or mobile device and all these messages will continue to be encrypted.
S/MIME – Per-to-Per Encryption
This allows per-to-per communication and no one can view it. Not even your Office 365 Administrator. You can easily send and receive messages from Outlook, Outlook Web Access, or ESA Clients. You can choose to digitally sign these messages or encrypt using S/MIME
Need More Information?
View the video produced by Microsoft 365 Technical Product Manger
Need help deciding what's right for your business?